The Bewitchingee Workshop
& Altars for Setting Lights
The following are photos of the Bewitchingbee Workshop and the Workshop Altars that I use for the work I do for my clients and also for personal work. By "work", I mean spiritual work or what hoodoo practitioners would call rootwork. The types of rootwork I typically do are: crafting Mojo Bags, Honey Jar Spells, Altar work, Prayers, Spiritual Petitions, Oil Lamps and Candle Magic- such as Setting Lights, Moving Candle Spells, Candle Divinations and such. My workshop is also the place where I speak with clients, do consultions and divinations, and where I make spiritual baths, powders, condition oils, Spell Kits and most of the other magical supplies listed on the web site.
<![if !vml]>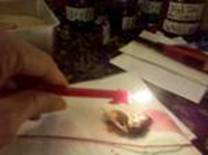 <![endif]>
S
ealing roots in a Love Reconciliation Spell:
A very male High John the Conqueror Root, and very female Queen Elizabeth root
sealed in red wax with healing Balm of Gilead and a tiny, but highly magnetic lodestone!
<![if !vml]>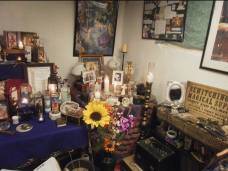 <![endif]>
Some of the Workshop Altars. In the corner is our
Ancestor Spirit Altar
used to venerate Loved Ones, family or friends, who have passed over. I also set lights to aid the crossing over of the newly deceased, resistant, or lost spirits, often by petitioning the aid of Our Lady of Grace and/ or St. Anthony .
<![if !vml]>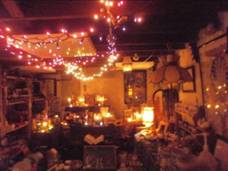 <![endif]>
The Workshop
at night. Many candles can be seen burning along the back wall altars for :
Protection, Spiritual Healing, and Spiritual Retribution.
To the left lights can be seen burning on the
Road Opener and Money Drawing Altar.
<![if !vml]>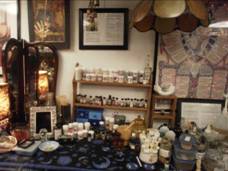 <![endif]>
A workspace used for dressing and preparing candles for clients. The shelf holds and keeps handy a number of condition oils and powders, roots, herbs, minerals and zoological items used for preparation.
<![if !vml]>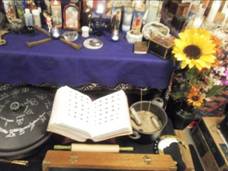 <![endif]>
Altar Work table directly below the Protection Altar and Healing Altar.
<![if !vml]>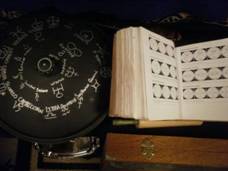 <![endif]>
Cauldron and Book, opened to pages showing Seals of Solomon.
<![if !vml]>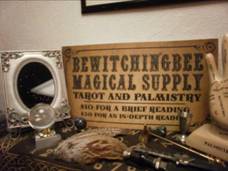 <![endif]>
A favorite Vintage Bewitchingbee Magical Supply Sign made by crafty artist and amazing rock and roll witch, Molly Roberts on display next to my favorite Scrying Mirror.
<![if !vml]>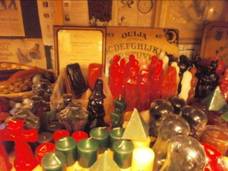 <![endif]>
A shelf full of assorted candle supplies. Propped up at the rear and lining the back length of the shelf are a number of vintage Ouija Boards, some from the early 1900's, and several from the 1940's.
<![if !vml]>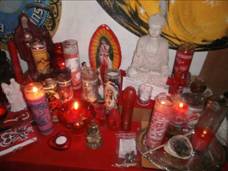 <![endif]>
The Workshop
Love and Reconciliation Altar
, featuring the Red Robed Santa Muerte who can be petitioned for Intranquility Spells- to make a wandering Lover return. Our Lady of Guadelupe, Yemaya, and Kwan Yin also figure prominently on this altar, regularly petitioned for different aspects of Love work.
<![if !vml]>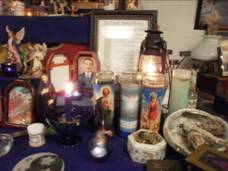 <![endif]>
On the
Blessing and Spiritual Healing Altar
burns a nearly perpetual Oil Lamp. Saints petitioned : St.Lazarus, St. Jude, and Dr. Jose Gregorio.
<![if !vml]>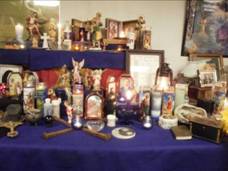 <![endif]>
Another shot of the larger, two tiered altars along the back wall
actually hold (5)the: Healing Altar, Fiery Wall of Protection Altar, Spiritual Retribution Altar, Spiritual Cleansing Altar, and specialized Lost or Missing Altar.
<![if !vml]>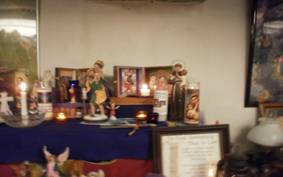 <![endif]>
Those who are LOST or MISSING. This is a S
pecialized Workshop Altar for Missing Persons, a cause very dear to me. Featured are the two saints I primarily work with: St. Christopher (Safe Travel and Light bearer) and St. Anthony (finding the Lost). I will burn a dressed candle along with a spiritual Petition on the Missing Person Poster or affix the Poster to the glass on the Glass Encased-Seven Day Candles.
<![if !vml]>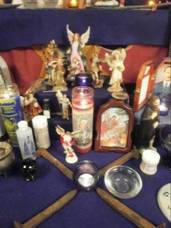 <![endif]>
Fiery Wall of Protection Altar. Observe a St. Michael Fiery Wall of Protection Candle burning and a pro-bono, tea light positioned between Four Railroad Spikes that have been anointed with Fiery Wall of Protection Oil.
<![if !vml]>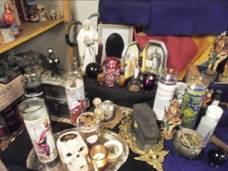 <![endif]>
Spiritual Retribution Altar
for Justice, Reversing, and matters of Spiritual Retribution. Saints featured and petitioned are: the Black Sante Muerte and the White Sante Muerte, St. Cipriano, and Black Hawk.