Bewitchingbee Candle Altar Services:
<![if !vml]>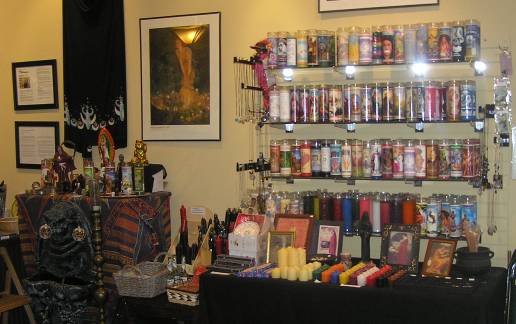 <![endif]>
Setting Lights:
Setting Lights is a traditional hoodoo practice performed by old-style Candle Shop Owners and Root Workers for their clients and entails the lighting of a candle dedicated specifically for a certain individual. A knowledgeable Rootworker at our shop will pray over the candle and and may also, according to the situation: include daily recitation of psalms, novenas, spiritual petitions, passages from Song of Solomon, or other Bible passages. Sometimes prayers of St. Cyprian, and other powerful Saints are included in the work.
What do Setting Lights & other Altar Services Include? :
When Setting Lights, I dress a 7 Day Vigil Candle with natural, authentic oils, powders, and herbs. These condition oils and powders are and blended by me, so I know that they include all of the traditional ingredients that have long been used by rootworkers before me. The dressed candle is set upon a written Spiritual Petition or Name Paper, which has also been dressed with the appropriate oils and herbs. Psalm-Work, and/ or the rituals of prayer and/or chanting- or reciting requests over them are done daily, and then the candle is allowed to burn straight through where it's been "set." Sometimes the I employ the use of Magical Seals from the 6th and 7th Book of Moses, or other powerful amulets. I set these lights on one of the 7 Altars in the shop. A Candle Divination is done based on the ancient art of ceromancy (divination by wax), and the interpretation of the outcome is sent to you via email upon completion of the burn.
How to have a Light Set (Specialized 7 Day Vigil Candle) for yourself or a loved one:
We will need your name, the name of the person the light is being set for (if not yourself), a description of the situation, and your desired outcome. We will also need your contact information to send the Candle Divination. This information can be placed in the "Ordering Instructions" section that comes up while placing your order, or you can email this information to me @ dvoith@sbcglobal.net . Not vital to include, but very helpful are: a Photo and/or Birthdate of the person/s involved. Including this more specific information makes for a stronger spiritual petition.
Do not send any original photos to us for use on our altars, because we will be unable to return them. Simply cut and paste the photo into an email, or send by regular mail to Deborah @ Bewitchingbee Magical Supply, 2456 N. Murray Ave. Milwaukee, WI 53211
The quickest and most convenient way for us to send you the interpretation of the burn, or Candle Divination, is via email. If necessary, and with an extra charge, we can send the written report via standard mail to the address specified by you. Included in the Candle Divination: Name of the Candle, the process of the burn, any unusual occurrences during the burn, a brief interpretation/ divination of the concluding features or appearance of the Candle, and the name of the worker who performed the divination.
Cost:
Bewitchingbee Magical Supply carries a full line of Vigil Candles for your spiritual needs. We stock many traditional religious, and hoodoo magical glass encased vigil candles, as well as many unique spiritual vigil candles created by us at Bewitchingbee Magical Supply, that you will not find anywhere else. The cost for these dressed and prepared Vigil Candles are $9.00 each (plus shipping). Our popular Altar Services are available at a modest fee of $11.00 which includes candle and petition dressing with our own hand-blended oils, powders, and authentic herbs, creation of a written spiritual petition, praying over each candle, and sending you a Candle Divination on completion of the burn. The total cost of ordering a candle with the setting of lights/ altar service by an experienced rootworker is only $20.00. (If the spirit moves you, tips are appreciated.)
*If you are financially not able to pay for setting a light, we may set one small altar candle for you for an urgent need, which burns for 1-2 hours. We are not able to provide divinations with these small candles.
Prepared Vigil Candles sent to you @ $9.00 each (Plus shipping) Simply Click on the Candle Page, then scroll down on the list of available candles to make your selection.
Other Altar Services Available at no additional cost:
* Setting of Lights on a pre-arranged Date: Some folks need this type of service for significant upcoming events such as: having surgery on a scheduled date, a Court date, or for the upcoming date of an important meeting or test. There is no extra cost for this arrangement, and the Light is set one day prior to the date of your request to make sure that the light is already burning strong and working for you on the important day.
* Continual Candle Services: This Service is an arrangement of setting a sequential run of Candles. You tell us how many candles in a sequence you would like to have set to keep your Spiritual Petition working for a longer length of time. The same individual treatment of each candle with dressing, prayers, petitions, and divinations are performed for as long as you feel is needed. There is no extra charge for this when you order all of your candles at the same time. Just indicate this service in the space for instructions when you initially order your candles.
* Dual Candle Lighting: This is the practice of setting lights simultaneously as a way to boost the effect. At an agreed upon date and time, we synchronize the burning of candles by you, the client at your home, and here in the shop. At the agreed upon time, we light our prepared candles and say our prayers simultaneously. This is done by simply ordering two prepared candles, one to be mailed to you, and one to be set on one of the altars here. There is no extra charge, just indicate this service, and the date and time request when you order
Our Altars Include:
Love Drawing & Reconciliation Altar
Order now: Setting Lights & Altar Service Love Drawing & Reconciliation: $20.00
Adam & Eve Used by both sexes to heighten passion and to back together lovers who have quarreled, or grown apart.
Bewitching To bewitch, beguile, and entice a lover. Secures a bond of love & affection.
Come to Me! To draw a new love to you.
Fire of Love To ignite Passion in an existing a new relationship.
Follow Me Boy! Dressed with one of the most infamous occult oils. Use to draw a man to you and have him do your bidding.
Follow Me Girl! Use to draw a woman to you and make her sexually and spiritually cooperative.
Intranquil Spirit Used to make a way-ward lover restless and unhappy until he or she returns
Kiss Me Quick! Fast and intense. Draws lusty, passionate encounters.
Lavender Heart Draws Love & Happiness to same sexed Lovers
Love Me! Assists with Love and all matters of the heart. Binds lovers to each other and keeps them true.
Lover come Back! Used to draw back a Lover or Spouse and heal the relationship
Midnight Love Spell Used for powerful Love drawing work, also produces prophetic dreams in matters of the Heart.
Reconciliation Used to heal rifts and bring about forgiveness and peace in friendships or love relationships
Stay with Me Used to bring about faithfulness and devotion in an existing relationship.
Tie the Knot! To bless a new marriage, or to attract a proposal of marriage.
Money Drawing & Crown of Success Altar:
Order now: Setting Lights & Altar Service: Money Drawing & Crown of Success: $20.00
Bayberry Brings money to the pockets and blessings to the Home.
Boss Fix Use to cause your employer to look favorably upon you and your work.
Crown of Success For success in all your endeavors- from going for a job interview, competing in a competition, or taking a test.
Court Case Burn before going in for Court appearance to draw favorable influences.
Fast Luck Fast, intense luck in Love, Luck, and Money matters.
John the Conqueror Used for strength and luck in conquering all fears and obstacles.
King Solomon Wisdom Burned to draw wisdom in decision making.
Lucky Lottery For all kinds of luck in games of chance, gambling, lottery, and bingo. Also to aid in dreaming lucky numbers.
Money Drawing To attract money in business, work, and gambling matters.
Money House Blessing Attracts money and prosperity to the home.
Money Stay With Me Used as a spiritual aid to assist one in hanging onto their hard-earned cash.
Pay Me Commands those that owe you money to pay back what they owe.
Prosperity Draws success and wealth to all your endeavors.
Steady Work Spiritual assistance in obtaining and keeping steady employment
St. Joseph Patron Saint of Real-Estate transaction. Blesses and aids in selling your home.
Spiritual Protection Altar
Order now: Setting Lights & Altar Service: Spiritual Protection: $20.00
Black Hawk Called "Watcher on the Wall", this Native American Folk Saint provides Spiritual Protection and Justice when petitioned.
Blessing Brings blessings to the home or individual in need- such as the ill, heart-broken, or vulnerable.
Fiery Wall of Protection Fiery Protection of St. Michael's sword.
St. Anthony Protects and helps find those that are lost.
St. Barbara patroness of lightening storms
St. Christopher/ Safe Travel Petition St. Christopher for safe travel on a trip, or safe travel through life.
St. Joan of Arc patron saint for women soldiers, rape victims, and also for support and development of those with Clairaudience.
St. Michael/ Protection Patron Saint of police officers, or anyone in sincere need of protection from the evil actions of others.
Cast Off Evil aids in freedom from bad habits and the negative influence of others. Also used to ward off the Evil Eye.
Court Case Burn prior to court case or any legal proceedings to draw favorable outcome in legal matters.
Just Judge For legal matters. Used to influence judge in your favor.
Guardian Angel burn to honor or thank your Guardian Angel, or to request guidance and protection.
Powerful Hand (Mano Poderosa) Use to request spiritual aid for strong protection work.
Run Devil Run Chases away evil persons or entities. used for protection and in exorcism.
Shut Your Mouth! Protection from malicious gossip.
House Blessing Used to bless a new home, or after annual house cleansing. Draws happiness, prosperity, and health to family.
Uncrossing / Hex Breaker breaks any hexes, curses or jinxes. brings an end to bad luck caused by others and removes "crossed conditions"
World Peace One candle at a time. Help to increase the peace.
Healing & Road Opening Altar:
Order now: Setting Lights & Altar Service: Healing & Road Opening: $20.00
Road to Better Business: Draws luck in financial business matters while clearing away obstacles to business success
Blessing: Use to send blessings to a new baby, a new home, one that is down or broken hearted,
Dr. Jose Gregorio Hernandez: Healing Folk Saint well known in Venezuela
House Blessing: For blessing a new home, or use after cleansing a home of negative energies or low lying spirits, or just to send blessings to loved ones.
Cut & Clear: Use to break away from negative relationships and clear the way to a better future.
Crown of Success: To draw Success to you in all your endeavors. Used by students prior to tests, in business matters, or when starting a new job or new venture.
Healing: draw healing energy to yourself or loved one with this Reiki charged candle, dressed with Healing Oil. Use to petition aid for the broken-hearted, and matters of emotional, physical, and/or spiritual distress.
Jesus / Sacred Heart Burn this candle for Redemption, when you are starting all over again.
Matt Talbot: the Venerable Matt Talbot aids in matters of healing alcohol and drug addiction.
St. Padre Pio petition Padre Pio for spiritual healing.
Peaceful Home to increase family and marital harmony, bring blessings to the home and those who reside there.
Road Opener Used for removing obstacles, opening the path to a new life and casting off the people or things that hold you back.
St. Dymphna Patron Saint of the mentally ill.
St. Francis Protection and healing of animals and pets.
St. Jude Patron saint of Lost Causes.
St. Lazarus petition help for skin afflictions and infectious diseases such as AIDS.
Virgin Mary/ Our Lady of Grace To send or receive blessings. To help a lost spirit cross over.
Court Case Altar:
Order now: Setting Lights & Altar Service: Court Case: $20.00
Commanding to command others and to enhance your leadership and influence
Court Case
Just Judge
Law Keep Away
Shut Your Mouth
Spiritual Justice Altar:
Order now: Setting Lights & Altar Service: Spiritual Justice: $20.00
Boss Fix
Black Hawk
Break-Up
Commanding
Court Case
Crossing
D.U.M.E.
Essence of Bend Over
Hot Foot
Just Judge
Law Keep Away
Reversing
Separation
Shut Your Mouth!
Uncrossing
Spirit Guide & Ancestor Altar
Order now: Setting Lights & Altar Service: Spirit Guide & Ancestor : $20.00
Archangels:
St. Gabriel: "God's messenger", employ Archangel Gabriel's aid in personal psychic development & prophetic dreams
St. Michael: Defender of Heaven & Earth. A powerful guardian and protector.
St. Metatron: Archangel of Sacred Geometry and powerful Protection symbolic in the sacred Merkaba
St. Raphael: Powerful Archangel who aids in Healing & Protection
St. Uriel: In some Catholic Lore; he is the Archangel who stood at the gate of the lost Eden with his fiery sword. Archangel of salvation.
Ancestor Spirit Light: a simple white candle that is traditional in many spiritualist practices to honor ancestors and deceased family members.
Ancestor Guidance Light: Used to venerate and seek guidance and help from family spirits regarding current matters.
Spirit Guidance Light: This light is set for loved ones who are dying or have recently died to aid their transition in passing to the next realm.
The Virgin Mary of Mount Carmel: Assists recently deceased spirits who may have issues that interfere or hold them back from crossing over.
Black Hawk: Spirit of Native American Indian Leader petitioned for powerful protection and justice work.
Chango Macho
Cross of Caracava: reputed to bring about miraculous blessings
Eleguba: African Cross-Road Spirit, petitioned to open the way and remove obstacles to your goal.
Guardian Angel: Use for special intentions and petitions with specified individual's Guardian Angel, especially in matters of Protection and Guidance.
Holy Spirit
Holy Family
Holy Trinity
Indian Spirit Guide
Infant of Prague
Jesus Christ the King
Mano Poderosa (Powerful Hand)
Maximon (San Simon)
Nino de Atocha (Infant of Atocha)
Nino Fidencio
Our Lady of Grace
Rose of Crucifixion (Rosy Cross)
Santisima Muerta
Seven African Powers
Sacred Heart of Jesus
Psychic Power
Psychic Vision
Spirit Guide
Yemaya
Saints:
Order now: Setting Lights & Altar Service: Saints & Spirit Guides: $20.00
Anima Sola
Archangel Gabiel
Archangel Metatron
Archangel Michael
Archangel Raphael
Archangel Uriel
Guardian Angel
St. Anthony
St. Barbara
St. Christopher
St. Clare
St. Cyprian
St. Dismus "the good thief"
St. Dymphna
St. Expedite
St. Joan of Arc
St. Francis
St. Joseph
St. Jude
St. Lazarus
St. Martha the Dominator
St. Martin Cabellero (St. Martin of Tours)
St. Martin de Porres
Santisima Muerta
St. Mary Magdalene
Our Lady of Charity
St. Peter (the Apostle)
St. Raymond
Jesus Christ the King
Sacred Heart of Jesus
Sacred Heart of Mary
Virgin Mary/ Our Lady of Caridad el Cobre (Our Lady of Charity)
Virgin Mary/ Our Lady of Grace
Virgin Mary/ Our Lady of Guadalupe
Virgin Mary/ Our Lady of Mount Carmel