Bewitchingbee Magical Supply L.L.C.
http://www.bewitchingbee.com/ Home Page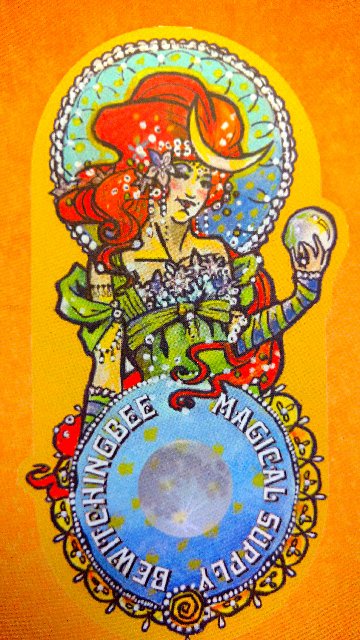 Yes moon babies! This mighty fine Bewitchingbee
Logo was created by the Rock & Roll
Witch and Artist, Molly Roberts! (Thanks Molly!)
Bewitchingbee Magical Supply is an online shop providing magical supplies and services.
For information on obtaining a Tarot Reading from Deborah, press the Tarot Readings from the "Bee" button at the top of this page.
For information on Rootwork, Consultations, and other Services available, press the Rootwork & Services button at the top of this page.
For information on my Setting Lights Services, press the Setting Lights button at the top of this page.
For Online Shopping and information on my old school, classic hoodoo, Rootworker Style Spell Kits and unique line of handcrafted, glass encased, Bewitchingbee Original Vigil Candles, press Magickal Supplies at top of page.
Products:
Magickal Supplies: Bewitchingbee features Hoodoo, Rootwork, and Spellcraft Items. I make and sell hand-blended, hoodoo "condition" products made just like the original, old-time formulas. **All of the "Rootworker Style" Spell Kits, and original Bewitchingbee Candles are individually hand-crafted by me, and spiritually charged one at a time, truly putting the "magic" in these magical supplies. For a more powerful magical work, each item is made after it is ordered, for that particular individual, not taken from a shelf and dusted off before being shipped to you.
Services:
For Readings book an appointment with Deborah : Tarot Readings by Phone (by appointment), or email (turn around time of 24 to 48 hours) I have over twenty years experience and specialize in a wide range of Tarot Readings.
Setting Lights: I have been performing this simple candle spell and divination for clients since 2006. For more info, click on the Setting Lights button at the top of this page.
I am also available for consultations, and classes regarding Tarot, Reiki, Spirit Work with Ancestors, Spirit Communication and Mediumship, Hoodoo and Spell-Casting Specialties include: Uncrossing, Spiritual Cleansing and Blessing of a Home/ Business/ or Individual, Energy Healing, Protection from Enemies, Road Opener Work, Reversing, and Love Drawing, as part of Hoodoo Rootwork.
As an independent Usui Reiki Master/Teacher , I practice hands on and distance energy healing for clients and frequently incorporate this as an adjunct to much of my conjure and spiritual rootwork. I was taught Traditional Usui Reiki by Arline Rowden and was certified as a Reiki Master Teacher 2007. I am Certified with an Advanced Diploma by Palmistry International, and also certified in Hoodoo and Southern Style Rootwork by cat yronwode of Lucky Mojo.
Questions?? Contact me at dvoith@sbcglobal.net
Free Info:
On this website you will find free Lessons and Info in the starred * sections below about Hoodoo, Witchcraft, Folklore, Palmistry, Pendulum Divination, Magic, Potions, Spells, and Brews.
This site is divided into the following sections:
Bewitchingbee Magical Supply Store: Items for sale. All store pages have products listed in alphabetical order, with full descriptions of each item.
Schedule a Reading with Deborah Voith : Qualified, experienced Rootworker available for readings. Click link for more info.
*Spells, Potions and Brews: Contains free magical information, spells & recipes.
*Palmistry Info Page: Contains free Palmistry information. This section also tells you about 7 free palmistry lessons. (Thank you Sue Compton).
*Questions about magic: Free General Info about magic
*Reiki Info: General info on the traditional Usui Reiki Healing Tradition.
*Witchcraft Lessons: Thirteen free lessons!
Setting Lights Service: To order a "Setting Lights" Service. I set a vigil candle with your specific intention on one of my workshop altars and upon completion of the burn a candle report/ candle divination is emailed to you. For more info click on the Setting Lights button at the top of the page.
Terms & Conditions: No surprise here, just terms and conditions.

Links: