Rootwork & Other Services Page
<![if !vml]>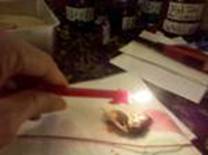 <![endif]>
Types of Readings, and Services offered by Deborah:
Tarot Readings: Individual readings by phone or email. Also available for parties or events
Setting Lights with Candle Glass and Candle Wax Divination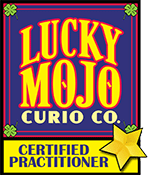 No prior reading or consultation is necessary for Basic Candle Services: In the tradition of hoodoo rootwork, I offer the setting of lights and a candle divination which is emailed to you after the candle has completed it's burn. Your candle is placed on one of my home office and workroom altars. I maintain old-time, store-front type altars at my home office workroom. See Setting Lights Page for details.
Note: I also maintain a special St. Anthony & St. Christopher Altar for Lost & Missing Children and Adults. I will set a light for any missing person, free of charge, upon request. Requests should be sent to me via email at: dvoith@sbcglobal.net Due to time constraints, a candle reading is not included with this free candle service.
I make all of the hand made, customized mojo bags that are for sale on this website. A concentrated amount of spiritual energy goes into making up a proper, old-time, traditional mojo hand. I am an experienced hoodoo rootworker who is knowledgeable about the traditionally effective ingredients used and in the customary ways of preparing a truly powerful mojo hand. If you are searching for such an item see the "Custom Made Mojo Bags" page.
For individually, hand-made, Rootworker Style, Spell Kits, that are made with traditional roots, herbs, minerals, and other authentic ingredients that are based on actual old-time herb and root magic, see my Spell Kits page. I make each of these Spell Kits one at a time, after they are ordered, for that specific client. All of the Incense, Oils, Powders, in the kits have been individually made, prayed over, and blessed using authentic roots, herbs, and minerals based on researched, classic formulas used by old-time hoodoo Rootworkers and Conjures.
Honey Jar Spells Contact me via email: dvoith@sbcglobal.net Honey Jars are employed to "sweeten" a person or situation and derive from American hoodoo practices. Many times these are used to encourage reconciliation between friends or lovers, in work situations to sweeten an employer, or in legal situations to encourage a judge to look favorably upon you.
Honey Jar Spell Service:
I use a small jar filled with honey to which I add the person or persons photo and a written spiritual petition, along with lodestones, magnetic sand and any other materials used for that particular type of Honey Jar Spell. I light a candle as the petition is made out and allow it to burn until it burns itself out. Starting the next day, and for every day the following week I light a small fixed candle and burn it on top of the honey jar to heat up the situation and promote movement on your issue. After this I continue to work with the jar, burning a candle on it 3 times a week Monday - Wednesday - Friday as these correlate to the related associations of: Monday- The Moon- Emotions, Wednesday- Mercury- Communication, and Friday- Venus- Friendship, Relationship, and Love. The 3 times a week candle is done for 3 weeks in a row. So the honey jar is worked with for about a month, or a 4 week period. I send a photo at the start-up of the Honey Jar Spell, then I send a brief email to you at the start of the following weeks, and a follow-up email at the completion of the Honey Jar work.
To initiate a Honey Jar contact me at dvoith@sbcglobal.net
Cost of Honey Jar Spell: $75.00
Interested in learning? Here are some of the classes I am available for:
If you have a group that is interested in learning, contact me at: dvoith@sbcglobal.net for pricing and availability
Tarot
Palmistry
Reiki
Mediumship, Communication with the Dead, and with Spirits/ Spirit Guides
Psychic Development
Available for Consultation:
(these consultations listed below are given free of charge, when I have time available, of course, and may be especially helpful for those involved in paranormal investigations)
Spiritual Cleansing/ Spirit Release, & Blessing of a Home, Business, or Individual
Spiritual Protection
Healing, in Person & Distance Healing (Reiki based)
*Hoodoo Rootwork is not a religion, it is a system of magic. Hoodoo, and the related terms of Conjure, Conjuration, & Rootwork, etc. are terms for the specific blend of African, Native American and German folk magic, as well as a good dose of Latin American practices, and conjure that make up this system of magical practice. Like many magical traditions, many of the practices were handed down by word of mouth. There are a few informational resources such as the hard to find, and phenomenally expensive 5 Volume Collection of Harry M. Hyatt's named: Hoodoo, Conjuration, Witchcraft, & Rootwork, which is a compilation of interviews, (most of which took place in the 1930's), of conjurers and rootworkers. Another collection of interest containing diverse folklore, rootwork, & magic done by Hyatt prior to HCWR and published in 1935 was: Folklore from Adams County Illinois.