Rootwork Services
<![if !vml]>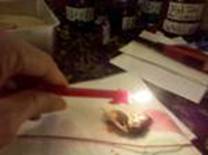 <![endif]>
Rootwork, also referred to as Spiritual Work, Conjure, and/ Spell Casting:
In the same way that a doctor will run tests on a patient to provide a diagnosis before they begin treatment, most reputable rootworkers will determine what their client's spiritual condition is first by doing a reading before prescribing rootwork, or a spiritual course of action. Getting a Reading prior to any Rootwork is strongly suggested as an essential first step so that your circumstances and the best course of action may be fully evaluated. My work is private, professional, and ethical. There are no secrets, during the reading and consultation, and I will spell out for you (no pun intended), exactly what the service is, and what the cost of it would be. I charge for the materials used (see Spell Kit Page to get an idea), and I also charge for the amount of my time and energy it takes to complete the work. This is usually a rate of $60.00/hour, and the total work can cost can vary greatly depending on the type of spiritual work it is and the length of time.
No prior reading or consultation is necessary for Basic Candle Services: In the hoodoo rootwork tradition I offer the setting of lights and a candle divination which is emailed to you after the candle has completed it's burn. Your candle is place on one of my Home Office Altars. I maintain 5 old-time, store-front type altars at my Home Office Workroom: An Ancestor Altar, the Healing Altar, Fiery Wall of Protection Altar, Love Drawing Altar, Money/ Prosperity Drawing Altar, and the always popular Spiritual Justice Altar. See Setting Lights Page for details. I also maintain a special St. Anthony & St. Christopher Altar for Lost & Missing Children and Adults.
*Book A Reading or Rootwork Services with Deborah at Bewitchingbee
Please Scroll Down to View
Types of Readings, and Services that I offer:
<![if !vml]>
<![endif]>
*Tarot Readings- 1/2 hour or 1 hour by phone or in person.
*Bibliomancy, by phone or in person,
*Palmistry, Hand Readings, in person only
*Pendulum Readings for yes/no Questions, by phone or in person.
*Mediumship, Communication with the Dead, and with Spirits/ Spirit Guides
*Scrying
* Bone Casting (Astragalomancy)
Some of the cards in my Tarot Collection
*Spiritual Consultation and Rootwork Advice
*Candle Glass and Candle Wax Divination
*Obi Four Cowrie Shell Readings
*Egg Divination (in conjunction with Cleansing)
Hoodoo Rootwork and Spell Casting Specialties:
<![if !vml]>
<![endif]>
* Altar work, Spiritual Petitions, Prayers, & Psalm work
*Setting Lights with Spiritual Petition for Clients, includes a Candle Divination report. (See "Setting Lights" Page)
* Fixed and Moving Candle Spells
*Uncrossing Ritual
*Egg Cleansing & Divination
*Spirit Work with the Dead, and with Spirits, including Graveyard, and Crossroad work
Setting Lights on the Ancestor and Spirit Guide Altar
*Bottle Spells, Honey Jar Spells, & other Container Spells
<![if !vml]>
<![endif]>
*I make individual Mojo Bags or Conjure Hands, Nation Sacks, and Jack Balls that are specific to your needs. Note: Professional,
Custom Jackballs- $50.00. These require a bit of your own hair, also a small slip of paper that you have written your full name on.
*I prescribe herbs, roots, and hand made, traditional formulas of: Hoodoo Condition Oils, Incense, Powders, Spiritual Baths, and Old-Time Floor Washes.
Customized Tobys or Mojo Hands
*I work deeply with numerous Folk Saints, including: St. Christopher, St. Anthony, St. Cipriano, St. Michael the Archangel, Dr. Jose Gregorio Hernanadez, Our Lady of Grace, Matt Talbot, St. Joan of Arc, and St. Dymphna.
*Doll Babies, human effigies, and voodoo dolls
*Spiritual Cleansings/ Spirit Release of Homes, Businesses, or Individuals
*Individual Magical Tutoring & Advising
Client Work Specialties:
*Cleansing & Blessing of a Home or an Individual
*Protection from Enemies, and Warding off Evil
*Uncrossing, Jinx Breaking,
*Healing, in Person & Distance Healing (Reiki based)
*Safe Travel & Protection of Family Members
* Reversing Work
* Road Opener Work.
*Love Drawing, Romance, & Reconciliation Work
*Dream Influence, and Mental Influence
*Spirituality, Enhancement of Psychic Development
* Court Case Work, & Legal Issues
*Money Drawing, Prosperity, and Gambling Luck
*Spiritual Justice, Hot Footing, and Revenge *Note-I do these works only very occasionally, based on the individual circumstance, outcome of reading and consultation, and only if I am spirit led to do so.
My Code of Ethics is simple:
I will not make any false guarantees.
I will not charge extra hidden or added on fees.
I will not give medical, legal, or financial advice.